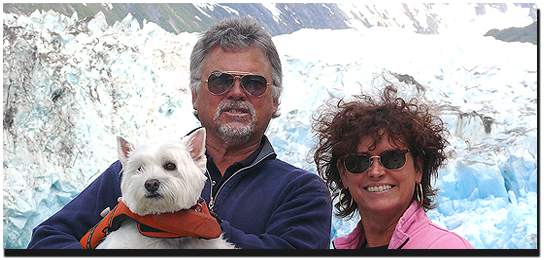 Debbie and Geoff Wilson do what they do because they love it, and their enthusiasm is infectious. Whether your visit to Alaska is the fulfillment of a once in a lifetime dream, or the start of an ongoing habit, your week, on your own personal Alaskan Cruise, will be a never to be forgotten experience.
If, after reading this, you still have doubts go to "Client Reviews" and you will see not only written testimonials but also short videos of every week for the past year.
Our Permits
We are one of only several luxury yachts to have a permit allowing us access during the high season to the crown jewel of the national park system: Glacier National Park.
Over 80% of Southeast Alaska is Tongass National Forest land. Both federal and state laws require permits to enter. With us you can hike, photograph and fish within the Forest. Alaska Yacht Charters has all permits required by the Alaska State Department of Fish and Game and the United States Department of Agriculture and Forest Service for guiding clients in the Tongass National Forest. Many other charter boats in Southeast Alaska do not have these permits: Ask them. Our "special use permit" granted by the Forest Service requires us to have insurance for your protection and theirs when going ashore.
Our Reputation
We are proud of the history we have with our clients. In the last five years seventy five per-cent of Alaska Yacht Charters clients have been either repeat guests or referred by our clients. We have hosted more than five thousand guests and spent 33 years making each trip the voyage of a lifetime for our clients. No other charter yacht in Alaska has such a dedicated following. We will be happy to provide you with a list of our clients.
Our Experience
With these years of experience, Debbie and Geoff Wilson bring an extensive knowledge of this pristine region. Alaskan luxury charters is what we do. A desire to bring quality and comfort to every detail comes from our pride in our yacht, the Alaskan Story and our business, Alaska Yacht Charters.
What is Included on our charter boats?
One night deluxe (double occupancy) accommodations in both Sitka and Juneau are included in your 9 day 8 night package. We have 12 passenger Vans in Juneau and Sitka and will try to meet your flight. If we are not there take a taxi to the Baranof hotel in Juneau and we will reimburse you for the cost.
In Sitka take the Airporter to the Westmark Hotel. These are the two best hotels in their respective towns. We will provide transportation from your hotel to our Alaska charter boat. You may extend your stay in either city (you will be responsible for the extra charges).
Your only incidental expenses for the Alaska charter boats will be hard liquor (beer and wine are provided), fishing licenses and crew gratuities. You will be on the vessel 7 days and 6 nights.
Total Comfort
The Alaskan Story is a safe and comfortable Alaskan charter boat. She has a Naiad stabilization system to reduce roll. Covered decks and large inside spaces provide excellent visibility during inclement weather. Beautifully decorated the Alaskan Story is maintained to the highest standards. Our staterooms provide luxurious feather beds, down comforters and pillows and have individual temperature controls for heat. Each stateroom has a private bathroom with shower "ensuite". The Alaskan Story was built to our specifications based on our years of experience with charters in Alaska. She was built not to provide for the most passengers, but to provide the most for our passengers.
Alaskan Fishing on the Alaskan Story
One of the great thrills we offer our guests is the opportunity to catch a might king salmon or a gigantic halibut. On an Alaska yacht charter with us you can fish from our 17 foot Boston Whaler equipped with down-riggers, radio, fish-finder and a new Honda 4-cycle outboard, or you can fish from the cockpit of the Alaskan Story where our crew will not only cater to your needs, but net and clean your catch as well. We also have crab and shrimp pots. We are very proud of our ability to "harvest" from the sea.
Cuisine
Using only the freshest ingredients, we provide cuisine comparable to the finest restaurants. Often using seafood caught the same day, Debbie's recipes will be a highlight of your trip and we strive to make each day's menu unique. Debbie shares some of these wonderful recipes on her cookbook page of the website.
As we voyage through the pristine landscape of Alaska, we offer our guests the unique opportunity to experience this region and its fascinating history and beauty. With us your yacht charter in Alaska will be the trip of a lifetime. Our success is proof our our ability to provide the ultimate in travel experiences to our clients.
Alaska Yacht Charters is an equal opportunity provider and employer.