"Quite simply the best crewed yacht charter in Alaska."
   We are full for 2022, though it is possible that we might have cancellations.  Please start thinking about 2023.
"We had such an incredible time in September.  It is an incredible, memorable place and a terrific boat. Greg is a terrific captain and Megan a great chef. Everyone got along tremedously and we continue to talk and remember the trip with all gratitude: A once in a lifetime experience."
All of our crew are vaccinated and boosted.  We require all guests to be vaccinated.
Aboard the Alaskan Story you will see, up close and personal, Alaska's incredible wildlife. You will see Humpback whales, Brown Bears, Orcas, Sea Lions, Harbor Seals, Dall Porpoises, Eagles and perhaps even Wolves and Moose.
Debbie, Geoff, Megan and Greg do what they do because they love it.  And their enthusiasm is infectious. Whether your visit to Alaska is the fulfillment of a once in a lifetime dream, or the start of an ongoing habit, your week, on your own personal Alaskan charter yacht, will be a never to be forgotten experience.
Alaska Yacht Charters has all of the permits required to allow you access to Alaska's otherwise restricted-entry federal and state lands. The Alaskan Story is one of only a few ships of her class to have permits to cruise in Glacier Bay, the crown jewel of the National Park system.
 Alaska Yacht Charters cuisine is a highlight of every trip. Megan selects the freshest available produce and often combines it with the "catch of the day."  Some of our clients return just for her desserts prepared daily.  And your choice of premium beer and wine, as well as soft drinks, are available all day long.  Using our salt-water fishing gear you can catch your next meal from the cockpit of the Alaskan Story.  Or with the crew in the "Whaler", you can catch Dungeness Crab or Alaskan Spotted Shrimp.
Each night we will anchor in a quiet, secluded anchorage. You will have the opportunity to go for a hike or kayak along the tidal shore viewing birds, marine life and even Alaskan Brown Bears.   Or you can stay aboard and watch a video on one of the two flat screen TV's, listen to music or read a book chosen from the extensive library.
Note: The National Park Service Authorizes Alaska Yacht Charters to provide concession services within Glacier Bay National Park and Preserve. 
             This institution is an equal opportunity employer ___________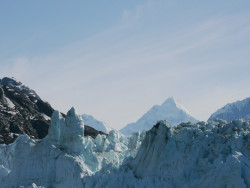 Would you visit Paris and not see the Eiffel Tower, London and not view the changing of the guard or New York and not a Broadway show? More Info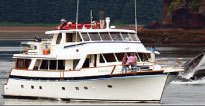 The Alaskan Story is a 90 foot Westport motor/yacht which underwent a million dollar refit in 2003-4 to make her much better than new. View Photos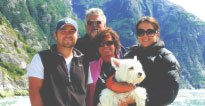 Commonly understood in the charter industry: The Cruise brings the clients first, The crew brings them back. Geoff and Debbie have been chartering boats together in Alaska for over 20 years. More Info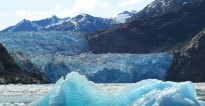 Photo opportunities are like no other place in the world. Icebergs and glaciers, marine mammals, brown bear and eagles galore. Want to share or download our videos Click Here View Photos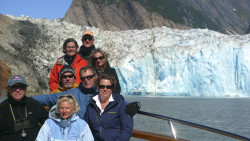 No other charter company in Alaska can claim such a loyal following. Since 2001, almost 80% of clients have been either returning or referred by our guests on our yacht. Read Testimonials