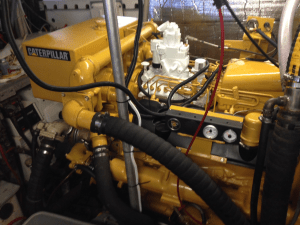 Interesting fact of the day: According to Scientists Mt. Olympus in the Olympic National Forest on the Olympic Peninsula in Washington state (just 70 miles northwest of us here on Bainbridge Island) would be the highest mountain in the world if it was not being constantly eroded by the more than 14 feet of rain it gets every year.  Yes read that again; the highest mountain in the world!
Of course you all know that the tallest mountain in the world is Denali near Anchorage, Alaska.  No not Mt. Everest, Denali.  Everest is the highest but from base to top Denali is taller.
Meanwhile I couldn't care less how much it rains here.  I don't have time to golf what with our major projects on the Alaskan Story.  Here are a few photos of the almost done engine room; repainted to the original factory colors for Caterpiller.
We will be leaving for Alaska a little later than usual and also coming home a little later.  For those procrastinators out there we still have two weeks available for this summer: May 25-31 and June 10-16.  And 2015 bookings are back on tract with 9 weeks already full: Start planning!