Small boat cruising
When I arrived home this afternoon Debbie told me to check out the new issue of Alaska Magazine.  Great issue with articles especially of interest to our clients, including an excellent article on "Seven Best Hikes in Juneau," and articles on "Anan Creek Bears" and "Cruising the Inside Pasage."
I have enjoyed some of the "Seven Best Hikes in Juneau" and the ones that I have yet to experience have been enthusiastically described to me by my crew over the years. I will be making copies (with the magazines permission) to give out to my clients.
Anan is an easy and beautiful hike to a bear observation station about 1/2 mile up the creek.Though it can be crowded and requires permits during the high season we often visit it on the trip south in early September when we are usually the only group there.  It is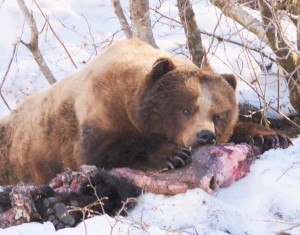 just north of Ketchikan and is one of the few places where we can view both Brown and Black Bears feeding together in close proximity. In August and early September the creek is so full of spawning salmon that you cannot see the bottom of the waters.
The Inside Passage article, subtitled "Exploring Southeast Alaska on a "small" boat was disappointing.  The article focused on the "Un-Cruise's" Safari Explorer which is a forty passenger and 15 crew vessel: Not my idea of small boat but as the article argues a better way to see Alaska then the big cruise ships.  There are several of these smaller cruise ship companies competing now for the left-overs after the unfortunate  demise of Cruise West.  Cruise West was founded by another Bainbridge Islander; Charlie West over 60 years ago.  A combination of unfortunate circumstances resulted in their bankruptcy several years ago.  See the cite below for that very interesting story.
Cruise West had a great ad which showed a person looking through binoculars at a very small bear, way off in the distance, described as "their bear."  And, of course, a very large bear up close and personal; "Our Bear."  I was disappointed that I hadn't thought of that.  It really accentuates the difference not only between the big cruise ships and the small cruise ship but much more the diffence between both of them and us.  People go to Alaska not for the buffets nor the people.  Alaska is all about the wildlife.  And only aboard a smaller vessel, one hundred feet or less, can you see the wildlife up close with family and friends who share your interests.  So isn't it time all of you experience the beauty of Alaska with us: Alaska Yacht Charters aboard the Alaskan Story.
For more about Cruise West see:  http://maritimematters.com/2010/10/cruise-west/